CLASSIC + LUXURIOUS CREATIVE AUSSIE PIES
If You Keep Walking Past the PIE SHOP, Eventually, WITH THE SMELLS OF FRESH PASTRY, YOU'LL Get a PIE.
GOURMET AUSTRALIAN PIE OF THE MONTH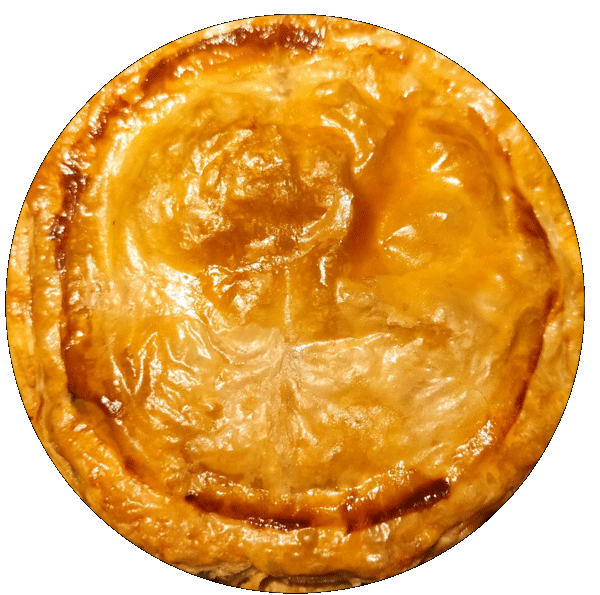 100% imported New Zealand Venison is cooked in house gravy of dark ale and mushrooms, placed in a buttery shortcrust base and topped with buttery flakey top.
We are foodies. We are pie lovers. We bake from our hearts. Having missed real Gourmet Australian pies in Bangkok, we wanted to bring this iconic Australian dish to life for fellow Australian expats and pie lovers.
Since 2011 Andrew and his team have strived hard to create pies that highlight rich quality fillings encased in buttery pastry. Each pie, sausage roll and pasty is crafted by hand – yes we still use a rolling pin – no machines or pie presses to be seen in our bakery 😀 
Our team is led by an Andrew, an Australian, and Tanapon, who lived in Australia and the UK for a number of years developing his passion for pies in both the English and Australian styles.
HAND-MADE PIES made with REAL BUTTER
We hand-make each pie, sausage roll and pasty with an emphasis on quality, we slow cook our fillings using imported Aussie beef and lamb and encase them in buttery pastry. Only hygienic fresh pork and poultry, free from antibiotics and residues is used, while our pastry is made with imported New Zealand Grain-fed butter, mineral water and free-range chicken eggs. A Devilish baked product is truly a hand-made product made with the best quality ingredients made the old-fashioned way.
Buttery shortcrust pastry base and flakey buttery top filled with rich sumptuous fillings.
Sweet shortcrust buttery pastry filled with imported fruits, rich chocolate and more. 
With an emphasis on quality we use premium grass-fed New Zealand butter and 100% real dairy.
We understand that we all have different dietary needs so at Devilish Bakery we offer a variety of specialised pastry and fillings including Gluten Free Dairy Free Pies + Rolls, 100% Planted (Vegan) Pies + Rolls and Keto Pies.

Fresh ingredients, egg pasta, real dairy bechamel sauce and house Napoli Sugo. Packed for microwave or convection heating at home.
We have something for everyone
Hand-crafted Gourmet Australian Pies…
Gluten Free Dairy Free
100% Planted (Vegan)
Keto
ORDER ONLINE NOW.

Immediate delivery for both HOT and FROZEN pies in stock to Bangkok. For pies out of stock we offer 2-4 DAY DELIVERY. Delivery schedules Tuesday- Sunday 12:00-22:00.

FREE DELIVERY for all HOT and FROZEN PRODUCTS delivered between OnNuch-Bearing-SriNakarin.
40-120 THB DELIVERY to other areas in Bangkok – Hot or Frozen Products.
120-400 THB DELIVERY frozen logistics nationwide to all provinces. Provincial Thailand deliveries 4-5 day delivery for a minimum order of 1,500 THB.
Do you want to sell our Gourmet Australian Pies in your cafe or restaurant? WHOLESALE PRICING AVAILABLE. Please EMAIL US HERE for your password to access WHOLESALE ONLINE ORDERING.